PMI- Certified Associate in Project Management (CAPM)
Description
What is PMI- CAPM?
The Certified Associate in Project Management (CAPM) course gives a sketch of core project management philosophies and knowledge of the five process groups and ten knowledge areas prescribed by the Project Management Institute (PMI). The CAPM credential recognizes demonstrated knowledge and skill in leading and directing project teams and delivering project results within the scheduled timelines, budget, and resources. It is an entry-level credential in project management offered by the PMI. An introductory lesson also prepares you for the CAPM certification exam. The CAPM training will give you the essential skillsets to help you become distinguished in the current market.
Course Objective:
Edutrickz's CAPM training program is designed to ensure that you pass the CAPM exam on your first attempt and earn the required PDUs.
The CAPM certification is valid across industries and is recognized worldwide. This certification will validate your fundamental knowledge of project management and its processes.
Why PMI-Certified Associate in Project Management (CAPM)?
 Skills you will accomplish?
Learn the project management knowledge areas, including integration, scope, time, cost, quality, human resources, communications, risk, procurement, and stakeholder management.
Able to develop the fundamentals of implementing standard processes and practices to be successful in your projects
Be able to demonstrate a strong commitment to the project management profession
Earn the compatible knowledge and skills required to pass the CAPM certification exam
Become a skilled project manager and become a valuable member of a project management team.
Creating project schedule and project budget
Planning project resources and team
Planning risk
Eligibility for CAPM exam: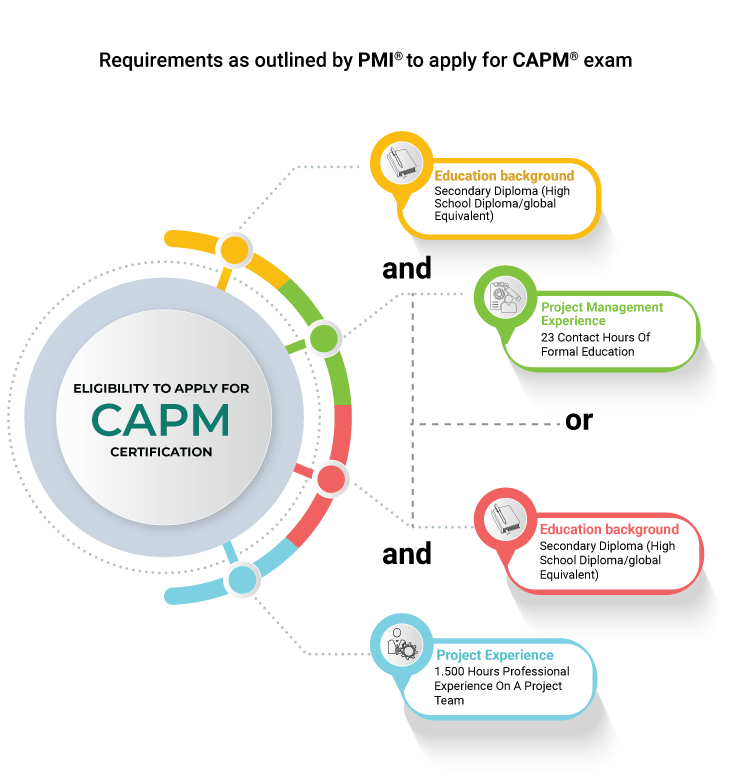 Modes of training of Certified Associate in Project Management Exam:
Live Virtual Classes.
Self-Paced Recorded Lessons.